NANO10
®

-XD
---
MEC's broad range of Micro class slab scissor lifts features the smallest in the line at 10ft platform height with Xtra-Deck® innovation
All-Electric Lift, Steer & Drive
No Hydraulic Oil
Pull-Down Xtra-Deck
Gives additional 20 in. (50 cm) height for 1 person
Ladderless Ground-Level entry
Full Height and Swing Gate
Discover the Benefits of Going MEC
Product Specs
---
500 lbs.
Platform Capacity
1,235 lbs.
Machine Weight
Standard Features
Work Area
Xtra-Deck Additional 20-inch height Platform Patent Pending
Standard Swing Gate
Ground to Platform Step Height – No Ladder
Lanyard Attachment
5v USB Charging Port at the Platform Control Box
Performance
All-Electric Drive Lift/Steer/Drive
Fully Proportional Drive and Lift Controls
Up To 25% Gradeability
Power
24v DC, 63 Ah Lithium-Ion Battery Pack (Maintenance Free)
Battery Charge Indicator
Serviceability
Lubrication-Free Scissor Bearings
Easy Maintenance Access to Mechanical and Electrical Components
Logically Grouped Components and Numbered Wiring for Easy Reference
Safety
Xtra-Deck Solution to Standing on the Midrails Hazard
Lift Control Orientation Designed to Mitigate Overhead Entrapment
Emergency Shut-Off at Platform and & Lower Controls
Non-Skid Metal Deck Construction
Descent Alarm
Drive Speed Interlock
Scissor Maintenance Lock
Multi-Axis Tilt Sensor
Multiple Disc Brakes
Automatic Parking Brake
Other Features
Removable Upper Controls
Voltage-Compensating Fully-Automatic Battery Charger
Hour Meter
Machine Tie Downs
Non-Marking Tires
All Motion Alarm
Fork Lift Pockets
Flashing Beacon (Continuous)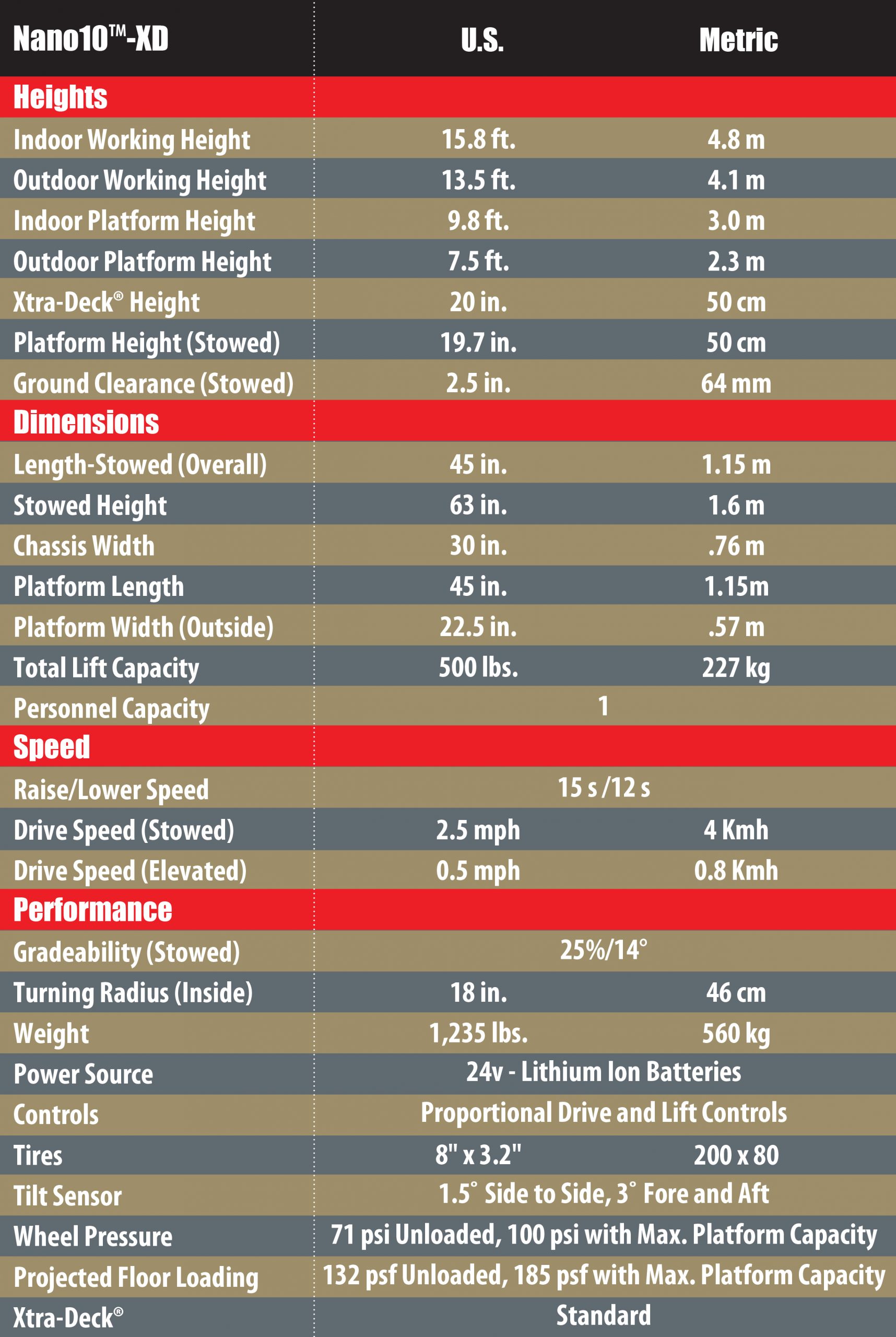 Highlights
All-Electric Lift, Steer & Drive (No Hydraulic Oil)
Pull-Down Xtra-Deck give additional 20 in. (50 cm) Height for 1 Person
Lithium-Ion Maintenance-Free Batteries Standard
Food and Pharmaceutical, Data Centers, and Hospitality Applications
Ladderless Ground-level entry with Full Height and Swing Gate
Fully proportional Drive and Lift Controls
63 in. (1.6 m) Overall Height – No Folding Rails to Get Thru Doorways
Lightweight Design (1,235 lbs./560 kg) Allows Usage on Restricted Floor Loading Applications and in all Elevators
Optional Features
Cold Weather Package
Upper Control Box Cover
Proactive Platform Safety System® (PPSS)
Second Year Extended Warranty
Want a PDF of this brochure?
DOWNLOAD BROCHURE
Featured Options
---
Proactive Platform Safety System