Micro26
®

AC
---
MEC's broad range of Micro class slab scissor lifts features the tallest in the line at 26ft platform height
Lightweight
Micro Scissor design with true slide-out deck and low floor loading (Uniform Pressure: 285 lbs., Max. Localized Pressure: 156 lbs.)
Ultracompact Design
Fits on most elevators and into tight work areas
AC Electric Drive
Exceptional duty cycle with standard AGM batteries and higher residual value
Product Specs
---
550 lbs.
Platform Capacity
4,190 lbs.
Machine Weight
Standard Features
Work Area
Roll Out Deck Extension with Incremental Locking Positions
Standard Full Height Swing Gate
Lanyard Attachments (2)
Performance
AC Electric Drive
Fully Proportional Drive and Lift Controls
Up To 25% Gradeability
Power
240Ah AGM Batteries
Battery Charge Indicator
Serviceability
Lubrication-Free Scissor Bearings
Easy Maintenance Access to Mechanical and Electrical Components in Swing Out Trays
Parking Brake Release Switch for Towing
Safety
Lift Control Orientation Designed to Mitigate Entrapment
Dedicated Compartments Protect Electrical and Hydraulic Components
Emergency Shut-Off at Platform and Lower Controls
Non-Skid Metal Deck Construction
Descent Alarm
Drive Speed Interlock
Multi-Axis Tilt Sensor
Multiple Disk Brakes
Scissor Maintenance Lock
Automatic Parking Brakes
Automatic Pothole Protection
Other Features
Removable Upper Controls
Voltage-Compensating Fully Automatic Battery Charger
Hour Meter
Machine Tie Downs
Non-Marking Tires
All-Motion Alarm
Fork Lift Pockets
Flashing Beacon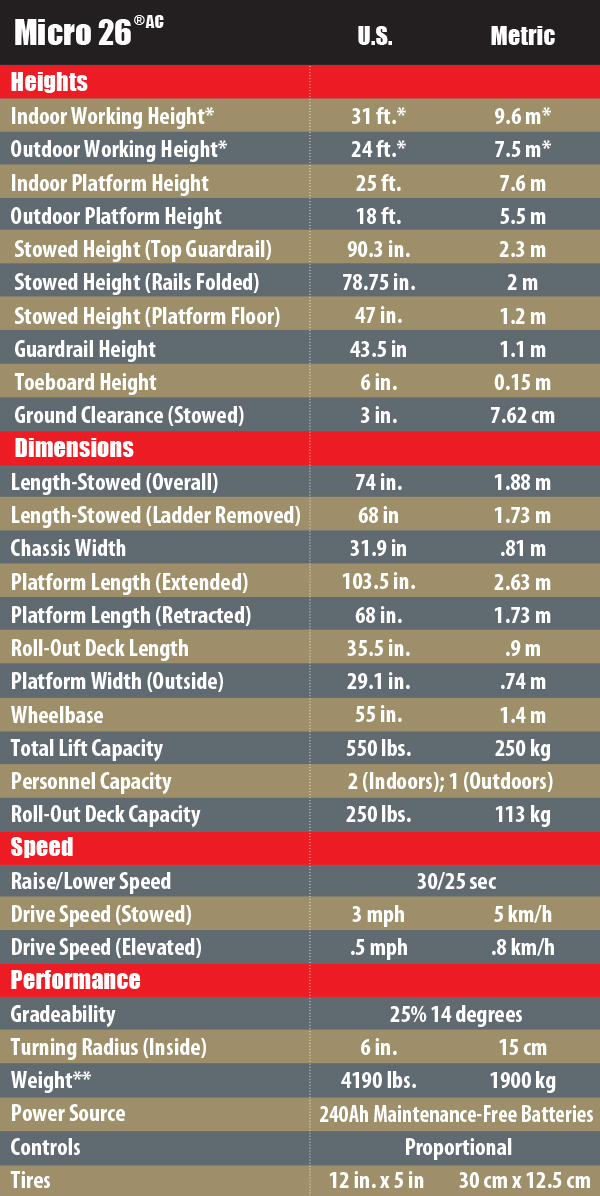 Highlights
Compact Size Almost 2 ft. (60 cm) Shorter Than Other 26 ft. (7.6m) Lifts
36 in. (90 cm) Roll-Out Deck Extension with Incremental Lock Positions
AC Electric Drive for Extended Duty Cycle, Smoother Control and Faster Drive Speed
Spacious 2-Person Platform (Indoors)/1-Person Platform (Outdoors) with 500 lb. (227 kg) Capacity
Driveable at Full Height
Fully Proportional Lift and Drive Controls
Options
900W Inverter
Tool Tray
Cold Weather Package
Leak Containment System® (LCS) Patent Number 11,112,060
Second Year Extended Warranty                                                                            Pipe Rack                                                                                                            Upper Control Box Supplementary Guard
Want a PDF of this brochure?
Featured Options
---
Integrated Leak Containment System® (LCS) Patent Number 11,112,060
Contain leaks and protect flooring while not interfering with safe machine operation
900W Inverter
On board AC power at the platform for power tools and lithium power pack charging while avoiding the risks and limitations of overhanging power cords
Pipe Rack
Factory designed and authorized device for safe pipe handling that keeps the platform clear and unobstructed