4555SE Compact
---
MEC's full line of slab scissor lifts features the industry's tallest class at 45ft platform height compact scissor
Direct Electric Drive
Exceptional duty cycle with standard maintenance free batteries and higher residual value
Full-Featured Design
High spec standard features include power-to-platform, on-board diagnostic and more
Extended Duty Cycle
High energy efficiency lift and drive lasts through the day for extended productivity
Product Specs
---
500 lbs.
Platform Capacity
7,190 lbs.
Machine Weight
Standard Features
Work Area
Roll-Out Deck Extension with Incremental Locking Positions
Standard Swing Gate
Lanyard Attachments (4)
Performance
Direct Electric Drive
Fully Proportional Drive and Lift Controls
Power
24v 300Ah DC Electric Power
Battery Charge Indicator
Serviceability
Lubrication-Free Scissor Bearings
Easy Maintenance Access to Mechanical and Electrical Components in a Slide-Out Tray
Logically Grouped Components and Numbered Wiring for Easy Reference
Safety
Dedicated Compartment Protects Electrical and Hydraulic Components
Emergency Shut-Off at Platform and Lower Controls
Non-Skid Metal Deck Construction
Descent Alarm
Drive Speed Interlock
Multi-Axis Tilt Sensor
Scissor Maintenance Lock
Multiple Disc Brakes
Other Features
Removable Upper Controls
Voltage-Compensating Fully Automatic Battery Charger
Hour Meter
Machine Tie Downs
Non-Marking Tires
All Motion Alarm
Fork Lift Pockets
Flashing Beacon (Continuous)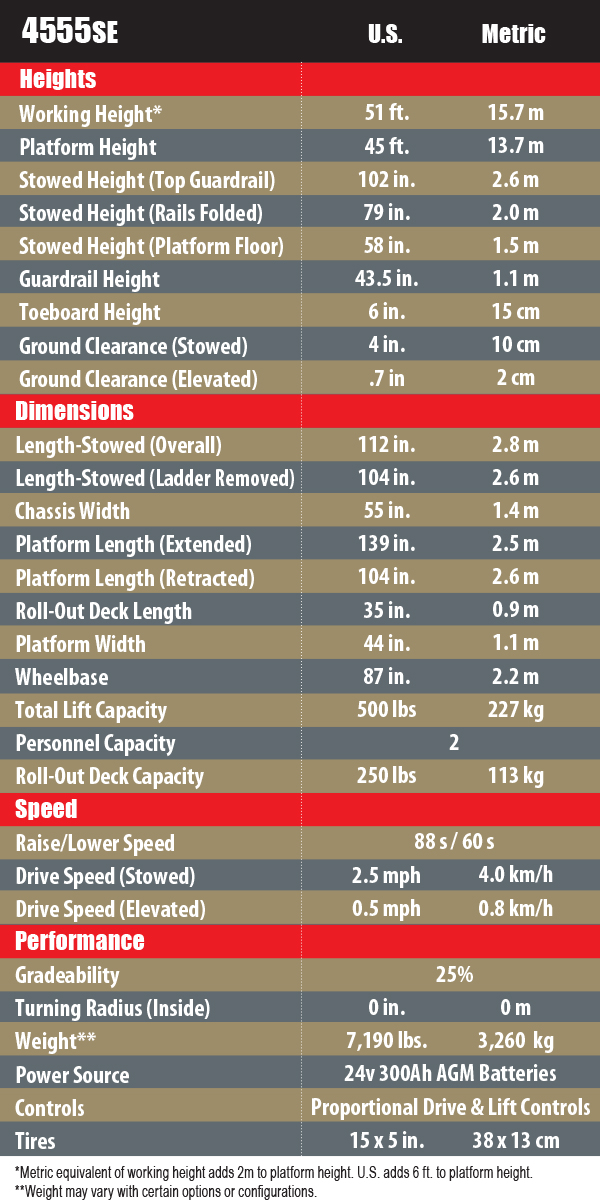 Highlights
45 ft. (13.7 m) Platform Height and 51 ft. (15.7 m) Working Height
55 in. (1.4m) Overall Width for Narrow Aisles and Doorways
Direct Electric Drive for Exceptional Duty Cycle
Zero Inside Turning Radius
Drivable at Full Height
Fully Proportional Lift and Drive Controls
Roll-out Deck Extension with Incremental Lock Position
Standard Swing Gate
Leading Value Solution for 50 ft. (15.7 m) Working Height
Options
900W Inverter
Tool Tray
Pipe Rack
Proactive Platform Safety System® (PPSS)
Leak Containment System® (LCS) Patent Pending
Second Year Extended Warranty
Want a PDF of this brochure?
Featured Options
---
Integrated Leak Containment System® (LCS)
Patent Pending
Contain leaks and protect flooring while not interfering with safe machine operation
900W Inverter
On board AC power at the platform for power tools and lithium power pack charging while avoiding the risks and limitations of overhanging power cords
Pipe Rack
Factory designed and authorized device for safe pipe handling that keeps the platform clear and unobstructed