2684RT Speed Level
®
---
MEC's broad line of rough terrain lifts features the 26ft platform height, large deck diesel Rough Terrain Speed Level® Sigma Lift
SpeedLevel® Design
Unique sigma lift design drives at full height while delivering 14° side to side and 10° fore and aft slope leveling without the need for outriggers
Oscillating Front Axle
Maintains stability while enhancing terrainability on uneven surfaces
Large Deck Workability
Large sheet loading entrances, no-skid metal deck and 4ft extension deck deliver performance on the most demanding jobsites
Discover the Benefits of Going MEC
Product Specs
---
1,700 lbs.
Platform Capacity
8,100 lbs.
Machine Weight
Standard Features
Work Area
Roll-Out Deck Extension with Incremental Locking Positions
Standard Swing Gate
110v Power to Platform
Automatic Platform Leveling
Large Sheet Material Loading Entrance
Lanyard Attachments
Performance
Up to 45% Gradeability
Fully Proportional Drive and Lift Controls
Oscillating Axle
4WD with Traction Control
Power
Kubota Tier 4 Final Engine
Serviceability
Lubrication-Free Scissor Bearings
Easy Maintenance Access to Mechanical and Electrical Components
Logically Grouped Components and Numbered Wiring for Easy Reference
Safety
Lift Control Orientation to Mitigate Overhead Entrapment
Dedicated Compartments Protect Electrical and Hydraulic Components
Emergency Shut-Off at Platform and Lower Controls
All Motion Alarm
Non-Skid Metal Deck Construction
Drive Speed Interlock
Multi-Axis Tilt Sensor
Multiple Disc Brakes, Manual Brake Release
Four Wheel Automatic Parking Brake
Flashing Beacon
Automotive Horn
Other Features
Standard On-Board Diagnostics
Removable Upper Controls
Fold-Sown Guardrails
Hour Meter
Machine Tie Downs
Standard Foam Filled RT Tires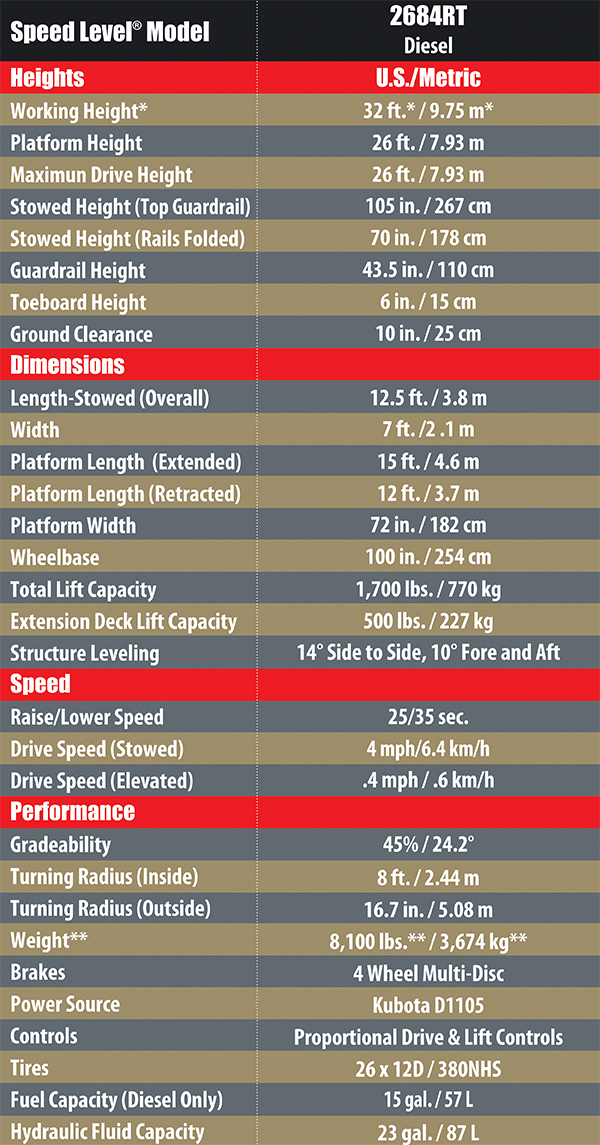 Highlights
Up to 1,700 lbs. (770 kg) Platform Capacity
Platform Leveling on Slopes, Automatic or Manual Selection, with an 14° Side to Side and 10° Fore and Aft Slope Leveling Capability
4WD Power Package Giving 45% Gradeability
Proportional Drive and Lift Controls
Non-Skid Metal Deck Construction
Large Sheet Loading Entrances (Fore and Aft)
No-Maintenance Bearings
Unique Sigma Lift Design to Drive on Planar Slopes While Being Fully Elevated
Options
Air Line to Platform
Cold Weather Package
Platform Work Lights
Non-Marking Tires
Pipe Rack
AC Generator
Dual Fuel
Diesel Scrubber
Second Year Extended Warranty
Want a PDF of this brochure?
Featured Options
---
AC Generator Package
2000 watt hydraulically drive AC generator will automatically disengage when machine movement is required and re-engage once repositioned
Dual Fuel Engine Option
Gas/LPG dual fuel engine available to match jobsite preferences
Platform Work Lights
4 LED work lights increase productivity and visibility when maneuvering in low-light conditions