Titan 40-S Telescopic Diesel
---
MEC's 40ft platform height telescopic Titan Boom lift delivers an innovative cross between a boom lift, ultra scissor lift and telehandler.
Award-Winning 3 in 1 Design
Designed to deliver 4,000 lbs. capacity on a 22 ft x 90 in ultra deck platform with boom outreach and rotation
3 Steering Modes
Gets in close to work areas with 2-Wheel Steer, 4-Wheel Steer and Crab Steer
No Footswitch
3 proportional joysticks for better maneuverability and visibility in platform
Product Specs
---
4,000 lbs.
Platform Capacity
24,250 lbs.
Machine Weight
Standard Features
Work Area
Non-skid Metal Deck Construction
4,000 lbs. (1800 kg.) Combined Platform Capacity
3,000 lb (1350 kg) Material Load Zone in Center of Platform Plus
1,000 lb (450 kg) Distributed Load for up to four (4) Workers and Tools
Stainless Steel Wire Rope Lanyard Anchors for Full Platform Mobility
Easy Access Sliding Side Gates for Material Loading
Pinless Guardrail System for Quick & Simple Guardrail Lowering
AC Power to the Platform
Performance
Fully Proportional Drive and Lift Controls
Oscillating Front and Rear Axles for Frame Leveling Ability
18 in. (.46m) Ground Clearance
High-torque Power Package with Four Wheel Drive
180° Platform Rotation
Duel Front Stabilizers
One-touch Chassis Leveling
Power
Two-speed Drive Motors
Kubota Turbo Diesel Center
Engine Shutdown Protection
Control System
Triple Joystick Interface
Fully Proportional Multi-Function Controls
Serviceability 
Large Swing Module Doors for Access to all Components
On-board Diagnostics Center
Logically Grouped Components and Numbered Wiring for Easy Reference
Safety & Other Features
Flashing Beacon (Continuous)
Tilt Alarm and Automotive Horn
Emergency Shut-off at Platform and Lower Controls12V DC Auxiliary Power Unit
Multi-axis Tilt Sensor
Foam-filled R4 Lug Tread Tires
Four Wheel Disc Brakes
Platform Swing Gate
Hour Meter
Powder Coat Finish
Machine Tie-downs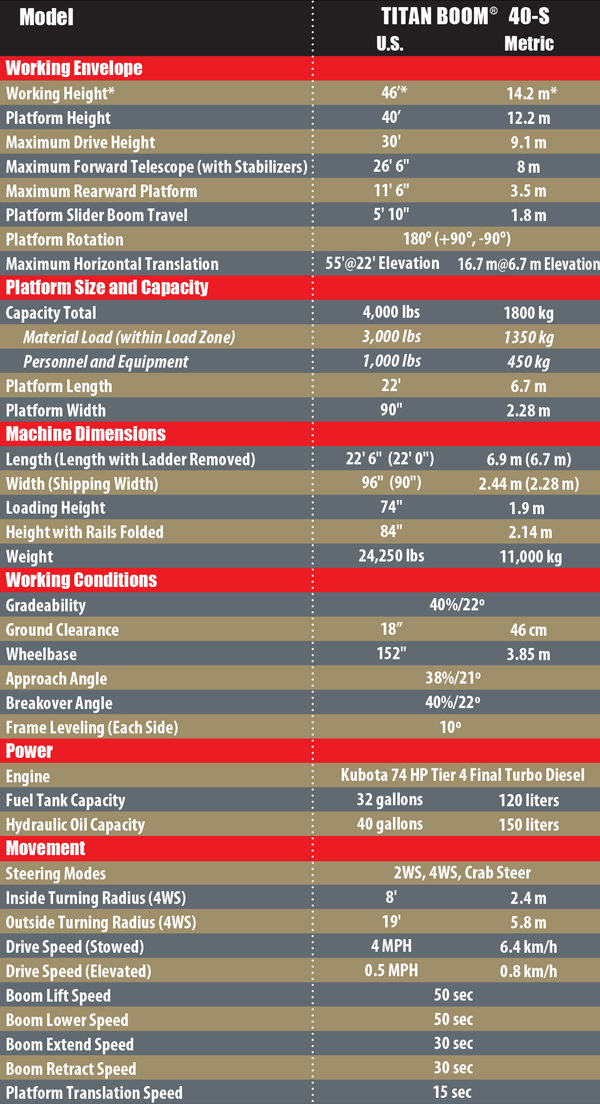 Highlights
Construction Grade Self-Propelled Booms
Capacity of a Telehandler with the work area of an Ultra-deck Scissor Lift and the reach and Rotation of a Boom
Up to 46 ft. (14m.) working height
Ultra-deck with 4,000 lb (1800 kg.) Combined Material and Personnel Capacity
Huge 22 ft. x 90 in. (6.7 m. x 2.28 m.) Deck Area
Three Steering Modes: 2-Wheel Steer, 4-Wheel Steer, and Crab Steer
Amazing 180° platform rotation plus additional telescope to get in close to work areas
Frame Leveling up to 10° each side
Stabilizer Support for Platform Stability on Heavy Duty Job Sites with One-touch Auto-Leveling
Dual Sliding Centered Side Rails for Fast and Simple Material Loading into Load Zone
Smooth, Fully-proportional Controls on all Boom and Drive Functions
40% Gradeability
Optional Features & Accessories
Air Line to Platform, 1/2 in.
1.27 cm. Inner Diameter
Platform Control Box Cover
Platform Work Lights
Water Line to Platform
Hostile Environment Kit
CE Complaint Options
Australian Compliant Options
12kw 3-phase 275A Welder-Ready Generator
AC Generator (120V/60Hz – 3,000W)
AC Generator (240V/50Hz – 2,500W)
Weld Leads to Platform
Cold Start Package
Arctic Package
Non-Marking Tires
Glazier Side Attachments
Platform Canopy
Pipe Cradle
Cladding Rack
Pipe Rack
Sheet Material Rack
Glazier Rack
Work Bench
Second Year Extended Warranty
Optional Platform Power
3kw A/C Generator
12kVA Welder-Ready 3-Phase Generator
Air Line
Auxiliary Hydraulic Circuit
Want a PDF of this brochure?
Featured Options
---
Glazier Package
Robust one-piece tray design that is quick and easy to install, remove and store when not in use. Meets Glazier needs with one long continuous tray that is lightweight, strong, safe and high visibility.
Welder Ready Generator Package
Hydraulically driven 7500-watt, 208-volt 3 phase generator and dedicated pump to run the generator providing a simple, safe and reliable system. Control system automatically drops out the generator when machine is functioned and automatically re-engages once movement is complete to save overspeed damage to the generator.
Proactive Platform Safety System® (PPSS)
MEC's PPSS option senses an overhead object with two ultrasonic sensors located behind the operator. With these high-tech sensors, the operators are proactively warned of an overhead hazard to mitigate collision and entrapment.