34-J Telescopic Diesel
---
MEC's 34ft platform height telescopic boom lift with a jib delivers full-featured value and innovation.
Full-Featured & Robust Lightweight Design
Feature rich with standard jib, tri-entry platform, and more while a micro design delivers higher value for 40 ft. application
Lightest Weight, 2-Section Boom
3 per truck transportation and less maintenance delivers ongoing operating cost savings
No Footswitch
3 proportional joysticks for better maneuverability and visibility in platform
Discover the Benefits of Going MEC
Product Specs
---
500 lbs.
Platform Capacity
8,000 lbs.
Machine Weight
Standard Features
Work Area
72 in. (1.83 m) Platform
3-Sided Entry with Swing Gate
500 lb. (227 kg) Platform Capacity
160° Platform Rotation
135° Jib Range of Motion
Power to Platform
Performance
355° Continuous Turntable Rotation
4WD Closed Loop Positive Traction Drive System
40% Gradeability
Oscillating Axle
Self-Leveling Platform
Low Engine RPM Elevated Operation
Two-Speed Drive Motors
40 ft. (21.6 m) Working Height
Full Drive Height
Power
Kubota D1105 Tier 4 Final
Control System
Triple Joystick Interface
Fully Proportional Multi-Function Controls
Safety
Emergency Shut-Off on Platform & Chassis
Auxiliary Power Unit
Multi-Axis Tilt Sensor
Tilt Alarm and Horn
Four Wheel SAHR Braking System
Automotive Horn
Engine Shut Down Protection
Other Features
Hour Meter
Machine Tie-Downs and Lifting Lugs
Powder Coat Finish
Lanyard Attachments
Standard Solid RT Tires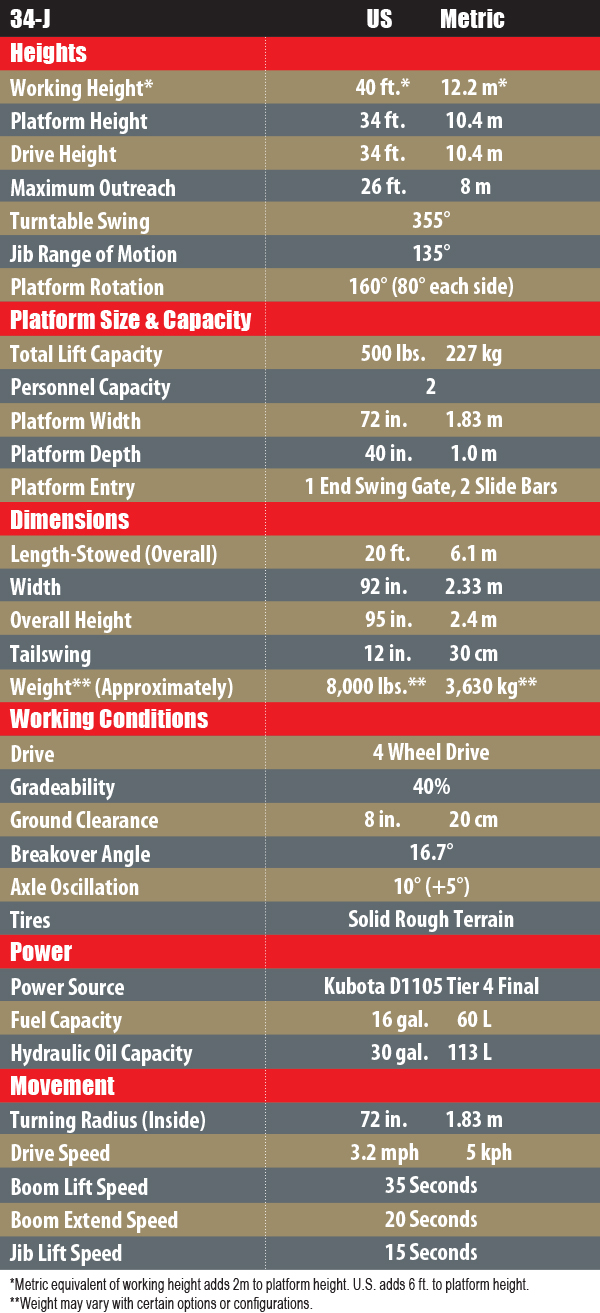 Highlights
Full-Featured, Rugged, Simple, Reliable
40 ft. (12.2 m) Working Height with Standard 5 ft (1.5 m) Jib for 135° Jib Range of Motion
Lightweight at 8,000 lbs. (3,630 kg)
Tow with a Full Size Truck or Fit Three on a Truck for Lowest Delivery Cost
Standard 72″ Platform Including 3-Sided Entry with Swing Gate
Ergonomic Platform Controls with Proactive Platform Safety System® Option
Powerful 4WD and Oscillating Front Axle Standard
Solid Rough Terrain Tires
Options
Platform Control Box Cover
Platform Work Lights
Turf Tires
3.5 kW AC Generator
Glazier Package
Cold Start Package
Proactive Platform Safety System® (PPSS)
Want a PDF of this brochure?
Glazier Package
Robust one-piece tray design that is quick and easy to install, remove and store when not in use. Meets Glazier needs with one long continuous tray that is lightweight, strong, safe and high visibility.
Proactive Platform Safety System® (PPSS)
MEC's PPSS option senses an overhead object with two ultrasonic sensors located behind the operator. With these high-tech sensors, the operators are proactively warned of an overhead hazard to mitigate collision and entrapment.
AC Generator Package
3500 watt hydraulically driven AC generator will automatically disengage when machine movement is required and re-engage once repositioned